Welcome to K•R•Y•P•T•A!
This is the webzone for the print zine K•R•Y•P•T•A and related projects.
K•R•Y•P•T•A is the flagship title of the zines I make.
K•R•Y•P•T•A
In the middle of making Flame Prïncess Cult (see below) and general COVID brainmelt, I started K•R•Y•P•T•A as an outlet for various pseudo-literary nonsense. The first issue was published in October 2020. The second issue came out in the middle of 2021. Issues 3-12 were all published in 2022. Issues 13 and 14 both came out in January 2023, while numbers 15 and 16 were published in February 2023. Issues #19 and #20 are the latest, as of March 2023.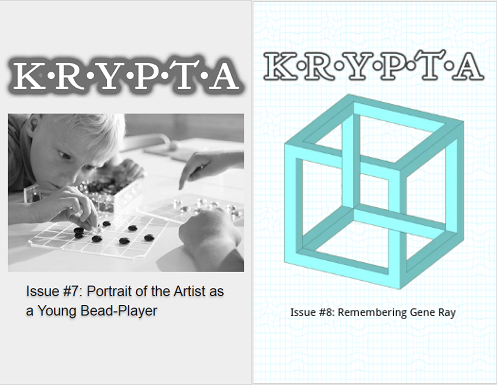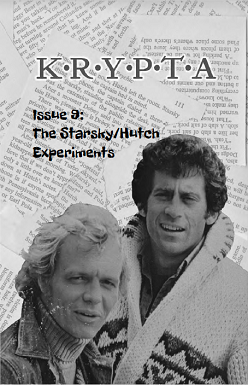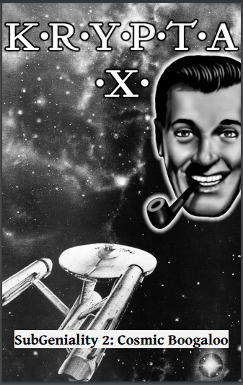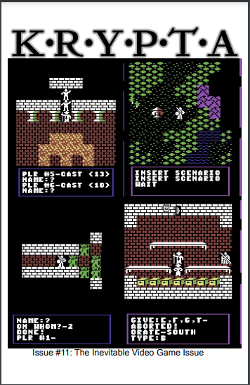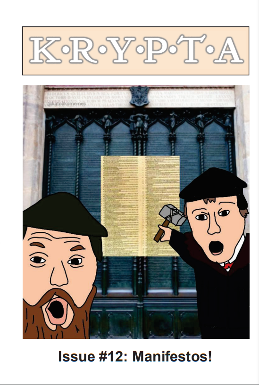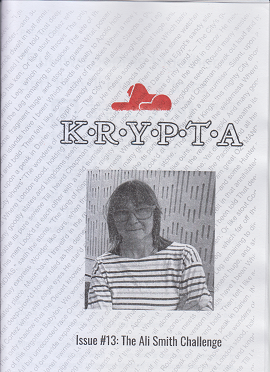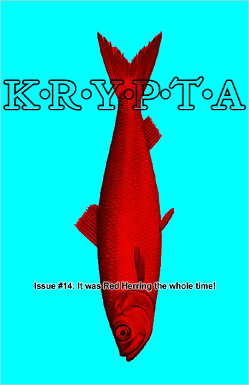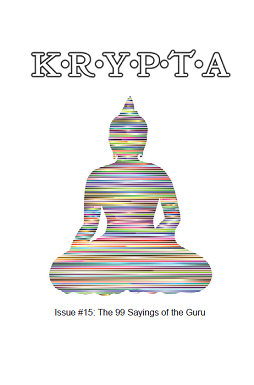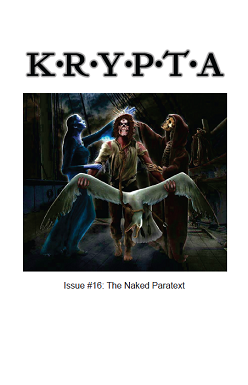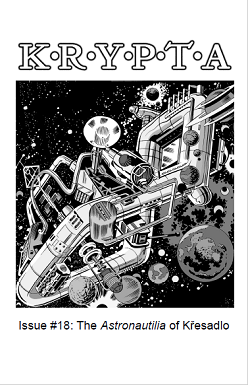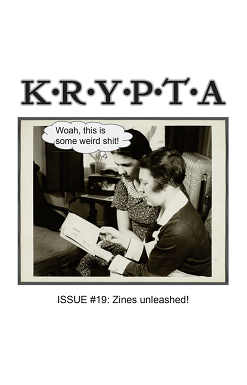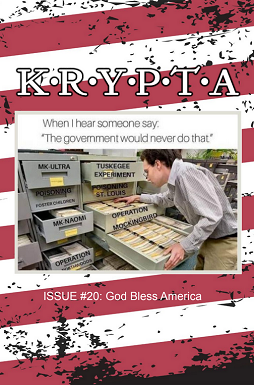 PS: Issue #13 looks different from the rest because it is a scan rather than a pre-print graphic. Since I used my cool new sphinx rubber stamp to finish the cover, I couldn't show a pristine webversion of the cover.
PPS:Issue #19 review a bunch of zines. This page tells you how to get some of them.
PPPS:And now here's a goofy little monster from the old computer game Ultima IV:

sonnetzine
A smaller project is sonnetzine a minizine of the classic one-sheet-of-printer-paper-folded-into-8-pages format. Each sonnetzine features one sonnet I like. So far I've made three issues. I've also made other zines in this format.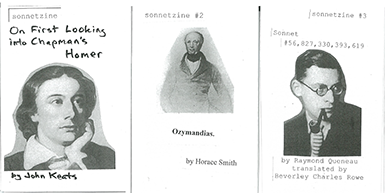 DiLLHONKER
DiLLHONKER was personal zine/memoir in which I tried to reflect on my own life to figure out why I am such a damn weirdo. The first four issues were published in June, July, September, and October 2022. Issue #5 came out January 2023. I think I'm done making this one now.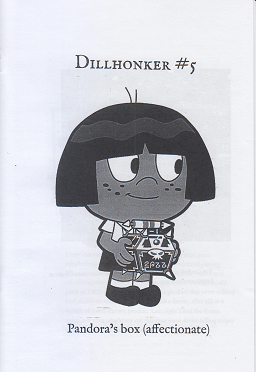 Clay Jar Materials
This is my newest project. The first issue was released at the 2022 Philly Zine Fest. Clay Jar Materials is a sort of self-investigation into my journaling practices.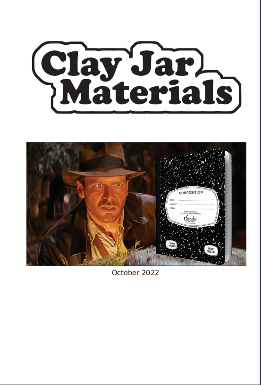 Annæ Reginæ
My first zine was Annæ Reginæ, which ran 2 issues in the early 00's. It focused on reprinting random weird stuff I found on the internet.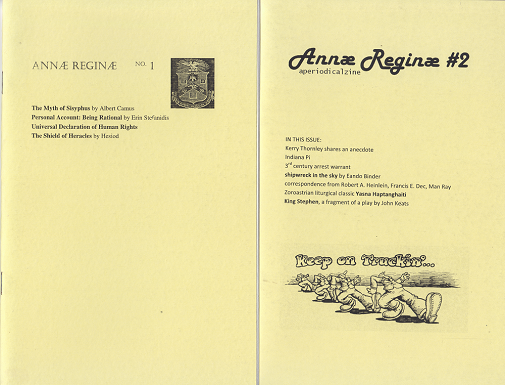 phasic
Around the same period as Annæ Reginæ I made a lot of one-off things that I generally called booklets and not zines. My next intentionl attempt at a zine as such was phasic, a fanzine for the world's second greatest tabletop roleplaying game, Encounter Critical. I produced a single, one sheet/two page issue. Another fan got sick of waiting around for me to make another and has produced four more issues, with maybe a fifth on the way.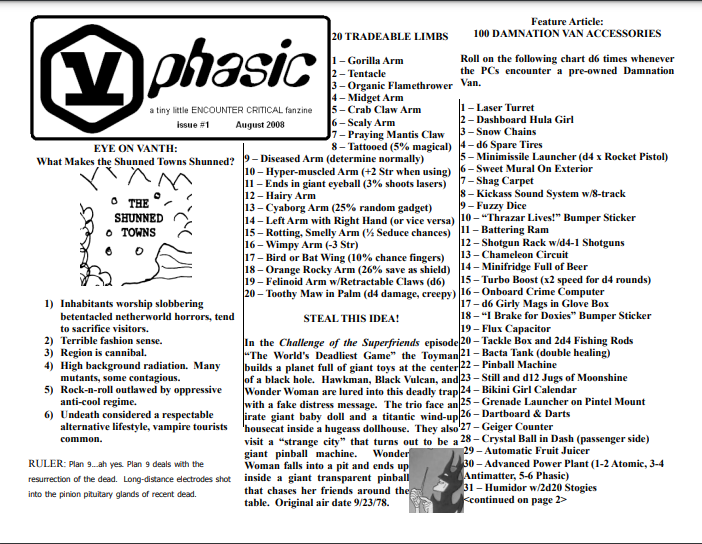 Flame Prïncess Cult
Back in 2020 I edited a roleplaying zine called Flame Prïncess Cult, a fanzine for the weird horror game Lamentations of the Flame Princess. This is the only zine I've done where I have solicited submissions from others. You can download your own copies here. NOTE: Some folks think that LotFP is trash and the people who play it are unrepentant degenerates. If that's your opinion, you may want to find another webzone to visit.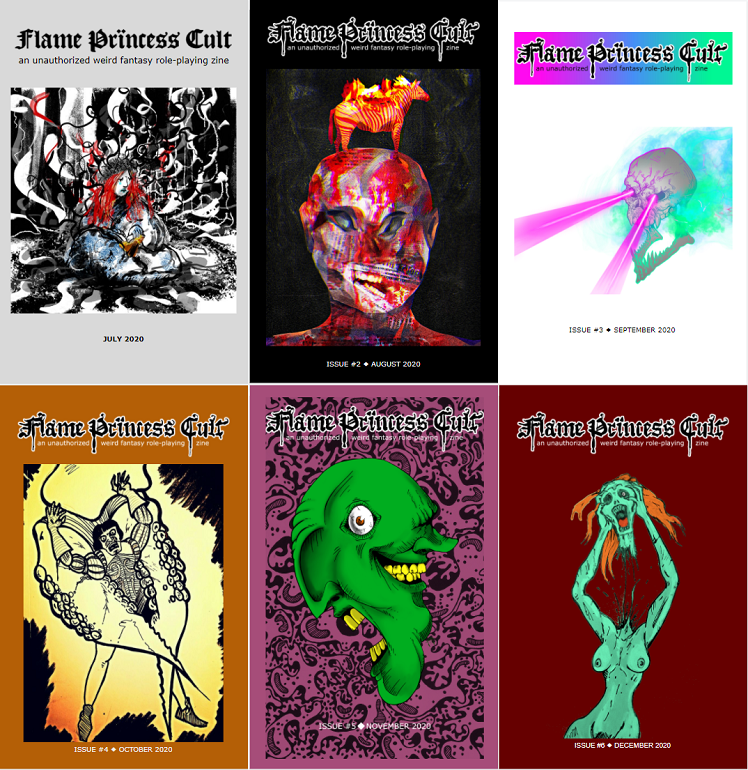 I talk more about my involvement with rpg zines on my Gamezines page.
See a zine that calls to you? Here's how to order!

Catch me on Mastodon!
RAWR!

Oh no! It's a bear!